Invisalign
---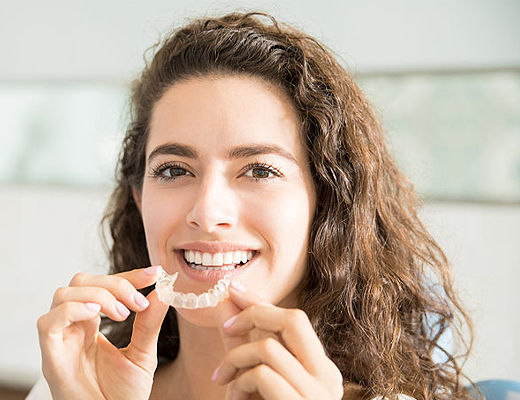 Have you ever wished your teeth could be straighter or more evenly aligned? Teeth that overlap, have unsightly gaps, or have grown crooked or twisted affect the way you feel about your smile. Fortunately, there's a solution that straightens teeth without the inconvenience of metal braces. It's called Invisalign, and it's a popular choice for teens and adults who want a more perfect smile. Talk to your dentist in Glendale, AZ, about the many advantages of Invisalign.
Why Choose Invisalign?
Invisalign uses a set of clear, plastic trays to straighten teeth. Unlike metal braces, Invisalign is nearly invisible, meaning most people can't tell you're wearing them without closely examining your teeth. This is one of the biggest advantages to this teeth-straightening system. However, there are other benefits, too. They include:
Invisalign typically straightens teeth in less time than traditional braces.
Invisalign trays are usually more comfortable to wear than braces.
Invisalign trays are easily removed for cleaning and eating.
For these reasons, Invisalign is a popular option for patients who want straighter teeth but prefer not to wear braces. Invisalign trays reposition teeth in small increments, and as your teeth become straighter, you'll transition to the next tray in the series until your teeth are straight and true.
How Does Invisalign Work?
After you and your dentist decide Invisalign is the right solution for you, they'll schedule the first step of the process. At this visit, your Glendale dentist will take a 3D scan of your teeth and forward it to the lab for fabrication.
At your next visit, you'll receive the first set of Invisalign trays. Your dentist will fit the trays to make sure they're perfectly suited to your mouth and teeth. You'll then wear the aligners home and keep them on for a minimum of 20 hours every day.
Every few weeks, you'll return for a dental visit to ensure your aligners are working correctly and to receive your new trays. Finally, usually around the 6-month mark, you'll finish your treatment and reveal your beautiful new smile.
Find Invisalign in Glendale, AZ
For more information on Invisalign in Glendale, AZ, contact Desert Valley Dentistry & Spa. We're happy to sit down with you to discuss your options for straighter teeth and to determine whether Invisalign is right for you.
Sources
invisalign.com