Veneers
---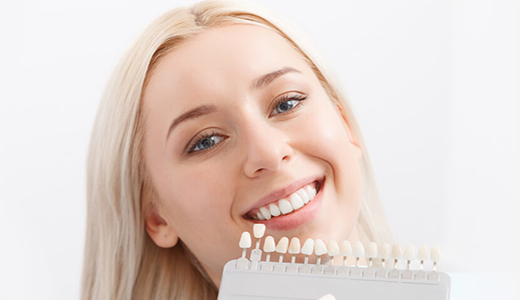 Improving Self-Confidence and Smiles One Person at a Time
What Are Dental Veneers?
Dental veneers in Glendale, AZ are thin custom-made tooth-colored shells that are placed over the front of your teeth and then secured by a bonding process. Veneers are made of either resin composite or dental porcelain and are a great solution for a variety of dental issues because they look like and protect your natural teeth.
What Dental Issues Do Veneers Correct?
Dental veneers are designed to cover tooth cracks, stains, chips, and other dental imperfections. Dental veneers can also help fix broken teeth, gaps between your teeth, misshapen teeth, or teeth that are too small.
The Different Types of Dental Veneers
Composite veneers are used to conceal cosmetically mild dental issues.
Porcelain veneers are used to correct many aesthetic dental imperfections.
No-prep or minimal-prep dental veneers are a less invasive veneer option because they require less enamel removal than other dental veneers. However, unlike the name suggests, no-prep veneers will still require the dentist to remove some of your tooth's enamel.
How Long Do Dental Veneers Last?
Dental veneers can last up to 15 years or more if they are properly cared for.
Are Dental Veneers Permanent?
Yes, most dental veneers are permanent. That means they are not reversible in most cases. Your dentist will remove some of the enamel from your teeth, then bond them to your existing teeth. The entire process could require up to three dental visits to complete.
Would You Like to Inquire About Dental Veneers in Glendale, AZ?
If you would like to talk with a dentist in Glendale, AZ about getting dental veneers, please Contact Desert Valley Dentistry & Spa today. We provide a full suite of dental services in a warm and welcoming environment.