PDO Threads
---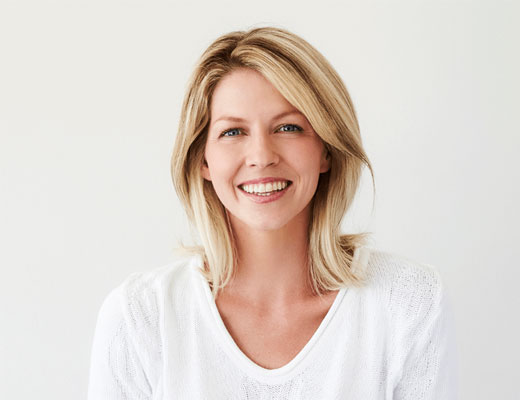 At Desert Valley Dentistry & Spa, we offer PDO thread lifts in Glendale, AZ. This is one of several non-surgical facelift procedures that we offer to new and existing patients. PDO thread lifts are gaining in popularity due to their effectiveness and minimal invasiveness compared to traditional facelifts.
What is a PDO Thread Lift?
PDO is an acronym that stands for polydioxanone, which is the material that the thread is made of. Essentially, polydioxanone is a biodegradable kind of polyester that naturally dissolves. It's been used for many years as a suture material during surgeries and recently has been utilized in cosmetic treatments for the face.
A PDO thread lift is a minimally invasive procedure where medical-grade thread is inserted beneath a layer of skin. The thread is gently pulled to tighten the skin in a subtle way.
PDO thread lifts have been called lunchtime facelifts because they're so easy and the immediate results are so subtle.
How do PDO Threads Work?
Collagen is a protein in the skin that helps to keep skin looking firm and new. Over time, due to aging and some other lifestyle factors, collagen breaks down, and the body doesn't make new collagen fast enough. This is why older people get sagging skin. The most noticeable place where the sagging skin occurs is in the face. Surgical facelifts attempt to fix the appearance of sagging skin by pulling it back and upward. However, this doesn't treat the underlying cause: the lack of collagen production.
PDO threads work by encouraging the body to make more collagen. The collagen production is prompted by the presence of the PDO threads in the skin, with the help of fibroblasts. This is a process that takes place without any more medical treatment or any needed intervention by the patient.
The beauty of PDO threads is that they work to make the skin produce more collagen, which addresses the underlying condition that caused the sagging skin in the first place.
PDO threads work in two ways. The first is the subtle skin lift and tightening done by the doctor during the actual procedure. The other way is by the way that the PDO threads trigger the body's creation of collagen, which naturally helps to lift the skin and reduce sagging.
How PDO Threads are Different
Other types of threads used in skin rejuvenation treatments are made from two different kinds of materials which are polylactic acid (PLA) and polycaprolactone (PCA). Of the three different kinds of threads, PDA threads have been used for the longest period of time since the 1980s. PDO threads are fabricated from a polyester without any dyes or color. They disintegrate harmlessly in the body after approximately six months.
There are three different kinds of PDO threads that are commonly used. They are:
PDO mono threads help rejuvenate the skin by stimulating the production of collagen.
PDO cog threads attached to the skin in a similar way as barbed fishhooks. They offer gentle support while lifting the skin on the face.
PDO screw threads are used to help restore volume to sunken areas of the face, and are made up of intertwined threads.
Benefits of PDO Thread Lifts
If you're interested in how a PDO thread lift might help you look younger, you should know that there are many benefits to this cosmetic procedure. PDO thread lifts are popular because of their many advantages, such as:
Convenience
PDO thread lifts can be done at the dentist in Glendale, AZ, at Desert Valley Dentistry & Spa. All you need to do is book an appointment, and you can have the procedure done the same day as your appointment without having to stay in a medical facility.
Minimal Downtime
Recovery from a PDO thread lift is very fast. Immediately after treatment, you'll be able to return to your day's activities, whether it's returning to the office, picking up the kids from school, shopping, or something else.
Subtle
Unlike surgical facelifts, PDO thread lifts give subtle results. No one will know you had a cosmetic treatment; they'll simply notice that you look more youthful.
Why not get in touch with us today to learn more about PDO thread lifts? We're here to answer any questions you may have and offer a personal consultation. Book your appointment today!