Non-Surgical Face Lifts
---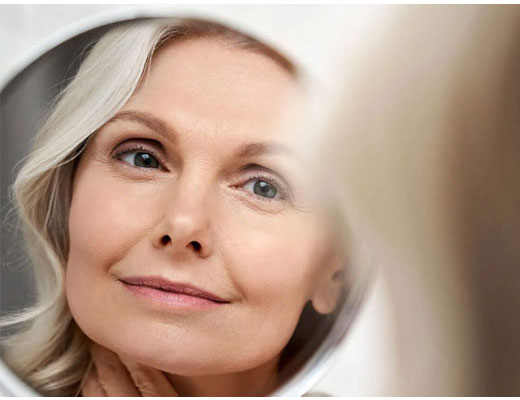 Do you struggle with minor issues caused by aging like frown lines, sagging skin, or wrinkles? While a surgical facelift may be an option, a non-surgical facelift in Glendale, AZ can also offer exceptional results. At Desert Valley Dentistry & Spa, we work with patients to help them rediscover their youthful faces and self-confidence without surgery.
What Are Non-Surgical Facelifts?
Non-surgical facelifts are cosmetic procedures aimed at lifting, plumping, and smoothing the face to achieve a more youthful appearance. A number of procedures may be involved in the process, such as dermal fillers, Botox injections, or skin treatments. Because these procedures do not involve surgery, they can be completed quickly, results are almost immediate, and you won't face serious recovery time.
What Can You Achieve with a Non-Surgical Facelift?
There are three primary changes that can be achieved with a non-surgical face-lift, including:
Reduction in wrinkles and frown lines
Enhanced facial volume
Smoother skin texture
Each patient's individual concerns and which treatments will be most suitable for them can vary. When you undergo your initial consultation, the doctor will discuss your concerns and what issues could potentially be addressed.
What to Expect with a Non-Surgical Facelift at Desert Valley
The first step is always a thorough consultation with the doctor. During this visit, we will discuss your concerns, health history, and which procedures could offer the most substantial improvements. From here, we will schedule your appointment to begin the process.
Depending on your chosen treatments, you may have a few different appointments. For example, Botox injections and dermal fillers may be done on different days. Individual results can vary, and you may need a bit of recovery time, but you can expect to see the results almost immediately with most treatments.
Are You a Good Candidate for a Non-Surgical Facelift in Glendale, AZ?
If you are interested in achieving a more youthful appearance without surgery, it is vital to work with a skilled professional. Reach out to the team at Desert Valley Dentistry & Spa to schedule a consultation.
Scarlet SRF
Scarlet Radiofrequency (RF) Microneedling is an advanced skin rejuvenation treatment that combines the benefits of microneedling with radiofrequency energy. It is a non-surgical procedure used to improve the appearance of the skin, reduce signs of aging, and promote collagen production.
During Scarlet RF Microneedling, a handheld device equipped with tiny, sterile microneedles is used to create controlled micro-injuries on the skin's surface. These micro-injuries stimulate the body's natural healing process and encourage the production of collagen and elastin, which are essential proteins for maintaining healthy, youthful-looking skin.
What sets Scarlet RF Microneedling apart from traditional microneedling is the addition of radiofrequency energy. The device also emits RF energy into the skin through the microneedles. This combination of microneedling and RF energy works synergistically to enhance the treatment's effectiveness.
The RF energy generated by Scarlet RF Microneedling heats the underlying layers of the skin, targeting specific depths and promoting collagen remodeling. The controlled thermal energy helps to tighten and firm the skin, reduce fine lines and wrinkles, and improve skin texture and tone. The treatment is customizable, allowing the healthcare professional to adjust the energy levels based on the patient's specific needs.
Scarlet RF Microneedling can be used on various areas of the body, including the face, neck, décolletage, and hands. It is commonly used to address concerns such as fine lines, wrinkles, acne scars, enlarged pores, uneven skin tone, and laxity.
AGNES RF
Agnes RF microneedling is a cosmetic procedure that combines radiofrequency (RF) energy and microneedling to target various skin concerns. It is primarily used for the treatment of acne, acne scars, and other skin irregularities.
During an Agnes RF microneedling procedure, a handheld device is used to create microchannels in the skin using tiny needles. These needles deliver RF energy directly into the targeted areas of the skin. The RF energy heats the deeper layers of the skin, stimulating collagen production and remodeling, which helps to improve skin texture and tone.
The key advantage of Agnes RF microneedling is its ability to precisely target specific areas, such as acne lesions or scars. The combination of RF energy and microneedling allows for both a mechanical and thermal effect on the skin, promoting better results compared to traditional microneedling alone.
The procedure is typically performed by a trained dermatologist or cosmetic surgeon. Before the treatment, a topical anesthetic may be applied to minimize any discomfort. The duration of the procedure depends on the size and number of areas being treated.
After the treatment, there may be some redness, swelling, and mild discomfort in the treated area. These side effects are temporary and usually subside within a few days. It is important to follow the post-treatment instructions provided by your healthcare professional to ensure proper healing and optimal results.